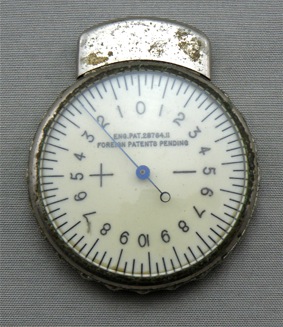 Lens clock for measuring the curvature of the surfaces of ophthalmic lenses
Sub-Category:
Lens measure, lens clock
Time Period:
1900 to 1939
Description Of Item:
Small lens clock to measure spectacle lens surface curvature, calibrated in Dioptres ( + and - 0 to 10). Chromed brass & glass. Marked: ENG PAT 28784.11 / FOREIGN PATENTS PENDING'
Historical Significance:
This lens clock was previously owned by Miss Ella Lillian May Pink (1890-1986) an Australian woman who qualified in optometry in London in 1915 and practised optometry in Australia from 1917 until September 1953.
How Acquired:
Donated by Noel Dawson (Ella Pink collection)
Location:
Archive office. East wall shelves unit 3. Drawer 1