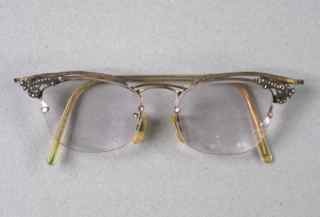 Diamente trimmed semi-rimless spectacles
Category:
Spectacles and lenses
Sub-Category:
Spectacles (with lenses)
Year Of Publication/Manufacture:
c 1960
Time Period:
1940 to 1999
Description Of Item:
Gold-metal ladies spectacle frame with diamente trim (marcasite?). No discernible markings on frame. Measured size 42/16. Fused round bifocal lenses held by four clips. Lenses have a very light blue tint (Crookes A?), 125 x 40 mm
How Acquired:
Donated by Donald MacRaild. Project co-ordinator Vanuatu Prevention of Blindness Project
Condition:
Fair. Metal corrosion and left trim misaligned.
Location:
Archive Office. Spectacles cabinet Drawer 16