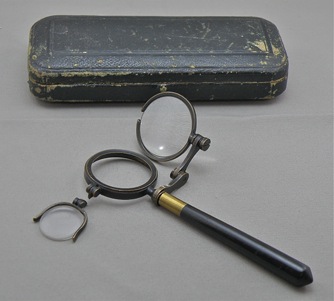 Cased Coccius ophthalmoscope, possibly Zehender variation
Sub-Category:
Ophthalmoscope
Designer/inventor:
Adolf Coccius
Year Of Publication/Manufacture:
c1860
Place Of Publication/Manufacture:
Germany
Description Of Item:
Cased non-luminous ophthalmoscope. Ebony & brass handle, brass rims for lenses and mirror. Coccius lens holder for small diameter minus powered lenses is broken at its mount. Condensing lens in situ. Mirror is lost. Case is fitted to house 5 small lenses and one spare condensing lens. Only 2 Coccius lenses and 1 condensing lens remain. Case covered in black leatherette and lined with purple velvet. Instrument: L 128 x W 45 x D 15mm. Case: L 143 x W 65 x H 27mm.
Historical Significance:
In 1853 Adolf Coccius used a biconvex lens on an adjustable arm to focus the source of light onto a plano mirror. A later Coccius model used a concave mirror to increase the concentration of the light. In 1854, Professor Karl von Zehender constructed a similar instrument but it's mirror was convex and it was made of metal not glass. Metal provided sharp edges to the sighthole with no restrictive viewing canal, which often occured when using thick glass mirrors. Ref: Keeler, Richard, Arch Ophthalmol/ Vol 120, Feb 2002.This example has lost its mirror which hampers its accurate attribution.
How Acquired:
Purchased by Kett Optometry Museum
Condition:
Poor; Coccius lens detached, mirror missing.
Location:
Archive Office. Cabinet One Drawer 10