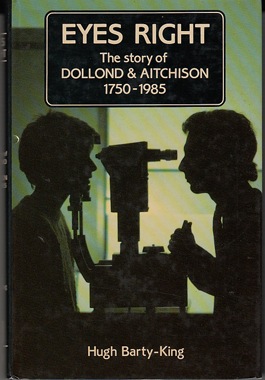 Eyes right: the story of Dolland and Aitchison 1750 - 1985
Sub-Category:
Hewett collection
Year Of Publication/Manufacture:
1986
Time Period:
1940 to 1999
Place Of Publication/Manufacture:
London. UK
Publisher/Manufacturer:
Quiller Press
Description Of Item:
Illustrated colour dust wrapper, blue cloth cover, 245 x 160 mm, 264 pages, illustrated throughout in colour and black and white. Ball-point gift inscription on front fly leaf dated Feb 1987. Chronological table index and bibliography on pages 250 to 264.
Historical Significance:
John Dollond FRS (1706-1761) was a famed London optician and instrument maker and the inventor of the achromatic lens In 1757. In 1758 he presented a paper to the Royal Society on the different refrangibility of light in which he describes his experiments. He was awarded the Society's Copley Medal in 1759 for his invention and was elected a Fellow of the Society in 1761. Dollond's business was famous for the quality of its optical products and became one of the best known and largest optician firms in England, continuing from 1927 under the name of Dollond and Aitchison. This book is in four parts: part 1 deals with John and Peter Dollond, Part 2 covers 1821 to 1950 giving an account of George Dolland and James Aitchison during which time the firm, Dollond and Aitchison, flourished. Parts 3 and 4 deal with the periods 1951-1980 and 1980-1985.
How Acquired:
Purchased by Kett Museum
Location:
Nathan Library. Hewett collection