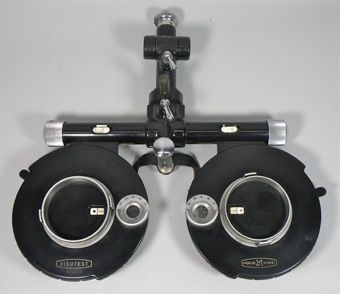 Moller-Wedel Visutest phoropter
Sub-Category:
Refractor Phoropter Phorometer
Year Of Publication/Manufacture:
Mid 20th C
Time Period:
1940 to 1999
Place Of Publication/Manufacture:
Wedel, Germany
Publisher/Manufacturer:
Moller-Wedel
Description Of Item:
Moller-Wedel Visutest phoropter, 38 cm W x 20 cm high excluding the mounting stem (36 cm including mounting stem), gloss black enamel metal, two 17 cm diameter circular casings containing rotating discs holding plus and minus spherical lenses and cylindrical lenses with controls to change lens power and cylinder axis. There is an auxiliary lens-holding disc to extend range of lens powers to ? 20 D. The separation of the two lens casing can be varied to suit the patient's PD. There is an adjustable head rest. Separately is a rod that can be attached to the phoropter mounting stem on which is a sliding frame to hold near point tests with 6 different near point charts. The only markings are VISUTEST / 522635 on the right eye lens casing and MOLLER M WEDEL on the left eye lens casing.
Historical Significance:
Moller-Wedel was founded in 1864 by Johann Diedrich Moller and was named JD Moller Optische Werke GmbH. At first it made various optical products such as microscopes, binoculars, optical measuring devices and anamorphic optics for film projectors. Since the 1960s, Moller-Wedel GmbH concentrated on the development and production of optical measurement technology, including instruments for ophthalmology and devices for microsurgery. In 1990 it was incorporated into the Haag-Streit Group with headquarters in Koniz, Switzerland.Sources to date this instrument have not been found. The Moller Visutest Models, C and D are very different instruments from this one. They are much wider and have elaborate auxiliary features. Efron reviewed Model D in 1978 (Aust J Optom 1978; 61: 295). Despite its sharp modern design the functional simplicity of this Moller model suggests it is earlier, possibly 1930s or 1940s.
How Acquired:
Donated by Kevin Rooney
Condition:
Very good except lens control mechanism is binding and lens power indicator is stuck. Enamel is chipped at the bottom of the lens casings
Location:
Archive room. West wall. Unit 4 Drawer 5