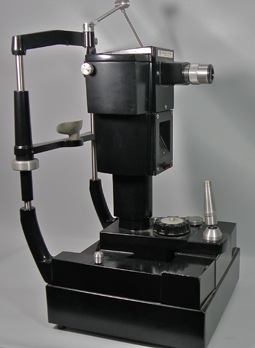 American Optical Non-contact tonometer
Designer/inventor:
GROLMAN, Bernard
Year Of Publication/Manufacture:
c 1985
Time Period:
1940 to 1999
Place Of Publication/Manufacture:
Buffalo, NY, USA
Publisher/Manufacturer:
American Optical Corporation
Description Of Item:
American Optical Corporation non-contact tonometer for measuring intra-ocular pressure of the eye without the need for topical anaesthesia, black enamelled metal instrument on a base 31 x 30.5 cm, with a joy stick and height control knob for aligning the instrument with 'fire' button, locking lever and power knob, headrest frame with adjustable chin rest height and an adjustable fixation light attached to the frame, observer eyepiece, objective lens on patient side with two air vents on either side. The instrument blows a puff of air on to the cornea and optically measures the corneal flattening as a surrogate measure of IOP. The result is displayed on a digital screen with accuracy indicatorlight on the operator's side. Overall height 58 cm and overall depth 37 cm. Electrical leads. On the observer side the instrument is marked AMERICAN OPTICAL CORPORATION with an AO trademark icon and on one side of the base is a metal label reading AO NON-CONTACT TONOMETER / MODEL 12415 / SERIAL AS1724 / VOLTS 230 / Hz 50 TO 60 / WATTS 20 / AMERICAN OPTICAL CORPORATION / BUFFALO NY 12415 / MADE IN USA/
Historical Significance:
Bernard Grolman (1926-2005) was a scientist at American Optical Corporation from 1955 (for a time known as Reichert Technologies). He was an optometrist graduating in 1952 after serving in World War 2 and training as a diamond setter before studying optometry. His non-contact tonometer was first shown in 1971 at the annual meeting of the American Academy of Optometry. It was patented in 1971 (US Patent No 3,585.849 June 22 1971). The original design was described in Grolman B. A new tonometer system. Amer J Optom Arch Amer Acad Optom 1972; 49(8). There were four generations of design between 1971 and 2005. This example is not the first design.
How Acquired:
Donated by Peter Munro
Condition:
Good and in working order
Location:
Archived journals room