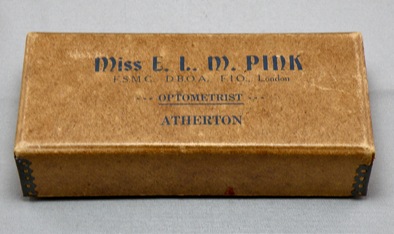 Post box for spectacles for Miss E. L. M. Pink, optometrist in Atherton, Queensland
Category:
Memorabilia and ephemera
Year Of Publication/Manufacture:
c 1940
Time Period:
1900 to 1939
Description Of Item:
Post box for spectacles, 163 x 72 x 39 H mm, brown stiff cardboard with slip-on lid extending full height of the box, metal reinforcement on corners of both lid and base, marked on the top 'MISS E. L. M. PINK / FSMC DBOA FIO / *** OPTOMETRIST ***/ ATHERTON'
Historical Significance:
Miss Ella Lillian May Pink (1890-1986) was an Australian woman who qualified in optometry in London in 1915 and practised in Australia from 1917 until September 1953. She practised in Atherton, Queensland, inland from Cairns. It is noteworthy that on this box she has used the vocational descriptor 'optometrist' rather than 'optician' or 'ophthalmic optician'. Since the term optometrist only began to come into use in the first decade of the 20th century and came into universal use in the 1960s, this probably dates the box as from the 1930s or 1940s.
How Acquired:
Donated by Noel Dawson (Ella Pink collection)
Location:
Archive room. West wall. Unit 2 Drawer 2