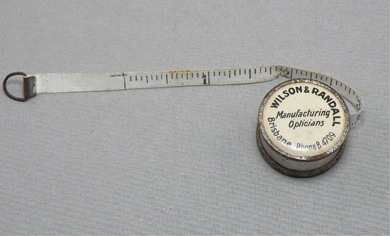 Retracting tape measure advertising Wilson and Randall, Manufacturing Opticians
Category:
Memorabilia and ephemera
Sub-Category:
Advertising, trade and products
Year Of Publication/Manufacture:
c 1930
Time Period:
1900 to 1939
Description Of Item:
Small retracting tape measure, 26 mm dia 12 mm D, chrome finish metal with embossed flower on base and white enamel on the top inscribed ' WILSON & RANDALL / MANUFACTURING OPTICIANS / BRISBANE Phone B 4709 '. Tape is white cloth marked in cm on one side and inches on the other.
Historical Significance:
This item belonged to Miss Ella Lillian May Pink (1890-1986) an Australian woman who qualified in optometry in London in 1915 and practised in Australia from 1917 until September 1953.
How Acquired:
Donated by Noel Dawson (Ella Pink Collection)
Condition:
Fair. Rust on sides and rust mottling on base
Location:
Archive office. East wall shelves unit 3. Drawer 11