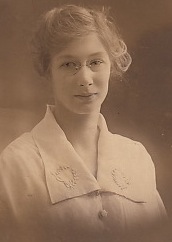 Collection of papers and photographs for Miss Ella Lillian May Pink FSMC, DBOA, FIO
Sub-Category:
Collection of papers (People) incl CVs
Time Period:
1900 to 1939
Description Of Item:
Collection of papers and photographs for optometrist Miss Ella Lillian May Pink FSMC, DBOA, FIO comprising: (1) Extract of birth certificate for Ella Lillian May Pink born at Benalla, Victoria, Australia on January 27 1890 (2) colour photocopy of the Dioptric Certificate of the British Optical Association for Ella Pink dated November 23 1915 (3) colour photocopy of part of the certificate of admission to the Freedom of the City of London dated September 30 1915, (4) copy of a letter to Ella Pink from the British Optical Association dated Aug 4 1954 acknowledging the return of her Dioptric certificate following her retirement from practice (5) monochrome photo of Ella Pink (pictured), 85 x 136 mm, in the form of an unused and unaddressed post card made by Jas C Cruden 182 Pitt Street Sydney on the back of which is a hand-written note 'Taken October 4 1913' and 'Born 1890 / Given Freedom of the City of London 30.9.15 / believed to be the world's first woman spectacle maker' (6) photograph by George Holyoake, Sydenham Road SE, of Ella Pink (?) in an oval slip within a 177 x 275 mm light brown card signed 'Your loving sister Lillie' and 'taken October 4th 1913' on the back (8) a group of five family photographs including Ella Pink's father, Walter Pink, and a photograph of the family home in England (?) (9) a transcript of an interview of Beryl Smith by Ruby (?) dated August 3 2001 as a part of a program sponsored by the Queensland Government (10) Letter to Ella Pink from the Chamberlain's Court of the Guildhall, London, dated 22 Sept 1915 inviting her to attend the court to be admitted to the Freedom of the City (11) Invoice issued by Walter Pink (Ella's father) Watchmaker and Jeweller dated 12.7.1928 (12) Postcard picturing the Meeting of the Waters, Killarney, from Ella Pink to her mother dated August 15th (1914?) (13) postcard picturing Luzern from Ella Pink to Miss Violet Pink of Chillagoe Queensland dated June 7 1914 (14) newspaper clippings of stories about Ella Pink now returned to Australia from London a qualified optometrist The Sun (Sydney) 10 Jun 1917 and 23 Oct 1921, a story headed 'On the way to Australia' probably a London paper that alludes at length to Ella Pink, and a story about Chillagoe the home town in Queensland of Ella Pink with a side story about Ella Pink 'school teacher given freedom of the city' in The Cairns Post Sept 7 1993. (15) email from Noel Dawson providing further information about Ella Pink in response to questions posed by the Kett Museum, (16) a copy of a newspaper article (undated, unidentified newspaper) about the new look of the shoe store first established by Ella Pink and her sister in 1932 and stating that Ella Pink came to Atherton in 1923.
Historical Significance:
Miss Ella Lillian May Pink (1890-1986) was an Australian woman who qualified in optometry in London in 1915 and practised in Australia from 1917 until September 1953. There were very few woman optometrists in Australia when she commenced practice and she was the first Australian woman to obtain optometry qualifications in London. She was not the world's first woman spectacle maker, nor the first woman to qualify in optometry in London, as claimed in the material above.She was born in Benalla Victoria on January 27 1890. Her father was a watchmaker and jeweller who had migrated to Australia from England, landing at Melbourne. In seeking opportunities the family moved from Melbourne to Benalla and then went north to Queensland, first to Charters Towers, then Chillagoe and then Atherton, the latter two being inland from Cairns and over 1500 km from Brisbane. At the time Chillagoe was a booming gold mining town and later kept going by copper mining until the 1920s.Ella Pink was schooled in Chillagoe and did well. She was selected as a 'pupil teacher', being mentored by her teachers and sitting examinations in Cairns. She taught in Chillagoe and the Mungana school, 16 km north of Chillagoe.She travelled to London in 1913, at age 23, ostensibly to visit English relatives. It is not known if her intention was to study optometry, but her father was a watchmaker-jeweller and optometry was often a sideline in such businesses. She studied at the Northampton Polytechnic Institute in Clerkenwell London in 1913/14 and 1914/1915 to prepare herself for the fellowship examinations of the Worshipful Company of Spectacle makers and the British Optical Association. She passed her examinations to be become a Fellow of the Spectacle Makers Company and to hold the dioptric diploma of the British Optical Association, These qualifications entitled her to Fellowship of the Institute of Ophthalmic Opticians and also admission to Freedom of the City of London, an honour open to her as a Fellow of a London guild, the Spectacle Makers Company. She was entitled to the post-nominals FSMC, DBOA, FIO. She returned to Australia in 1916 (?) by ship and train via Canada because World War I, which had commenced in 1914, was continuing. She practised optometry in Sydney before returning to Queensland in 1923, settling in Atherton, 100 km west of Cairns, where she practised optometry, within a jewellers shop, presumably her father's. She also opened a shoe shop in Atherton with her sister, although others ran the shop.
How Acquired:
Donated by Noel Dawson (Ella Pink Collection)
Location:
Archive office. Pamphlet and ephemera filing cabinet. Drawer 8