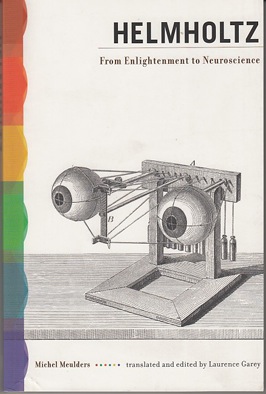 Helmholtz: From enlightenment to neuroscience
Sub-Category:
Hewett collection
Author:
MEULDERS Michel (Translated and edited by Laurence Garey)
Year Of Publication/Manufacture:
2010
Edition:
English translation edition
Place Of Publication/Manufacture:
Cambridge, Mass, USA
Publisher/Manufacturer:
Massachusetts Institute of Technology
Description Of Item:
Paperback, 220 x 145 mm, illustrated cover part in colour, 235 pages, illustrated in black and white throughout text
Historical Significance:
The author is Emeritus Professor of Neuroscience at the Catholic University of Louvain Belgium. The translator is a neuroscientist and anatomist. This book acknowledges Helmholtz (1821-1894) as a significant contributor to the study of vision and perception who had wider interests in painting, music and literature. He is shown as being resolutely materialist and empirical in his application to science following in the traditions of Kant and the English empirical natural philosophers, as opposed to the more metaphysical philosophers. He was in that sense a leader in the Enlightenment and Science Revolution of the 18th and 19th centuries. The author argues that Helmholtz laid the foundations of neuroscience. The book was first published in the French language in 2001.
How Acquired:
Purchased by Kett Museum
Location:
Nathan Library. Hewett collection