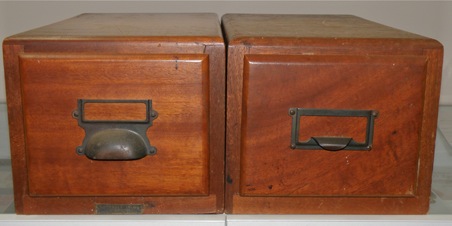 Two single-drawer wooden filing cabinets with patient records
Sub-Category:
Furniture, instrument stands, Px file cabinets
Year Of Publication/Manufacture:
c 1930
Time Period:
1900 to 1939
Description Of Item:
Two single-drawer wooden filing cabinets, stained oak colour with pull handle and label holders on drawer fronts. Dimensions 405 x 222 x 190 H mm (the two vary slightly in dimensions and have slightly different drawer pulls). A brass edged plate with words NATIONAL SYSTEMS in brass lettering on black is affixed to the bottom edge below the drawer front of one of the drawers. The drawers are filled with patient record cards 150 x 100 mm, separated by alphabetical dividers. One side of each card is printed with headings and lines. The headings are Name/Address/Occupation/Remarks/Glasses worn/Distance/Reading/Glasses ordered. The cards all have handwritten patient records dating from circa 1923 to 1957
Historical Significance:
This item was among effects formerly belonging to Miss Ella Lillian May Pink (1890-1986) an Australian woman who qualified in optometry in London in 1915 and practised in Australia from 1917 until September 1953. She was the first Australian woman to complete qualifications in optometry in London. She completed her Fellowship examinations of the Worshipful Company of Spectacle Makers in 1915 acquiring the right to the post-nominal FSMC and also in the same year the examinations for the Dioptric Diploma of the British Optical Association (DBOA). She also chose to become a Fellow of the Institute of Ophthalmic Opticians (FIO) in 1916.
How Acquired:
Donated by Noel Dawson (Ella Pink Collection)
Location:
Archived journals room Unit 2