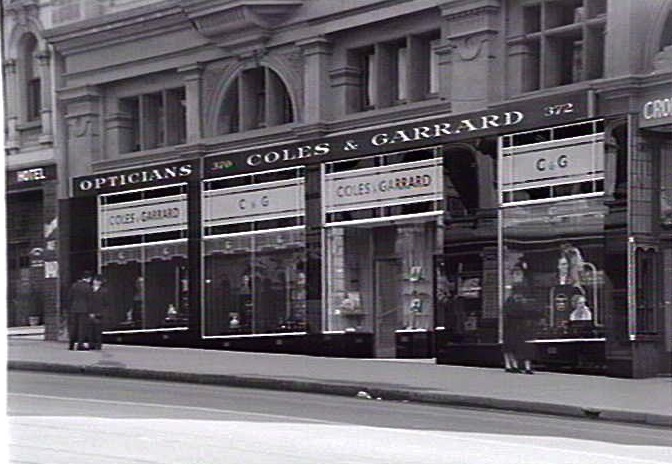 Notes on the history of Coles and Garrard
Category:
Memorabilia and ephemera
Sub-Category:
Biographical notes, obituary
Author:
SPENCER Ernest Arthur (and Anon)
Time Period:
1940 to 1999
Place Of Publication/Manufacture:
Melbourne
Description Of Item:
(1) Ruled faint exercise book, 230 x 175 mm, with extensive hand-written notes on the history of Coles and Garrard Pty Ltd, a large optometric firm located in Melbourne founded in 1922. Inclusions slipped-in are: (i) a photocopy of a page from the The Herald (Melbourne) dated April 8 1932 with an advertisement for Coles and Garrard , (ii) the chairman's address to the annual meeting October 28 1988 of OPSM Industries Limited in which it is noted that OPSM had acquired Coles and Garrard, and (iii) two patient record cards for the year 1973.(2) a single lined sheet, 280 x 210, torn from an exercise book with hand-written notes on one side, unsigned and undated, in a different handwriting, with notes on the history of Coles and Garrard dated to 1958.
Historical Significance:
The author was an optometrist who qualified at the Australian College of Optometry in 1951 having previously served in the RAAF as a pilot instructor. He was employed by Coles and Garrard Pty Ltd from January 1952 and later was shareholder.At the time of acquisition of the company by OPSM in 1988 the Chairman's address reports that it had 14 locations and 164 employees. The company continued to operate under its historical name for a few years after the acquisition. OPSM was later acquired by Luxottica.The handwriting of the first item is small and difficult to read.The single sheet of notes records that H.E Coles and FJ Garrard commenced business under their names on April 22 1922. The anonymous author joined the firm in 1931. In 1940 the firm expanded into two adjoining premises giving a frontage of 60 feet (see picture of frontage Circa 1937) and there were four consulting rooms and a staff of 17. A branch in Geelong was opened in 1940. Earl Coles retired in 1948 selling the business to 18 selected members of staff. Branches in Bendigo and in Chadstone shopping centre were opened in 1958 and branches in other shopping centres followed soon after. A new 6 floor building was built in 1958 at which time staff numbered 120.
How Acquired:
Donated by John McGibbony
Location:
Archive office. Pamphlet and ephemera filing cabinet. Drawer 8