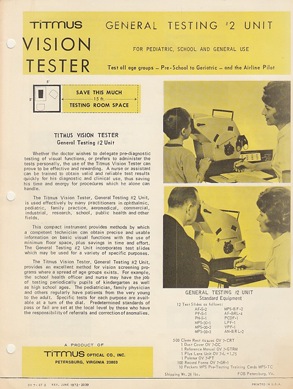 Bundle of single page leaflets and a small brochure describing and explaining the Titmus Vision Tester
Sub-Category:
Ophthalmic product brochures
Year Of Publication/Manufacture:
1970 to 1973
Time Period:
1940 to 1999
Place Of Publication/Manufacture:
Petersburg, Virginia, USA
Publisher/Manufacturer:
Titmus Optical Company
Description Of Item:
Twelve A4 sized single page leaflets printed both sides describing the various models of the Titmus Vision Tester and a four page brochure on the clinical interpretation of the results. The models are the industrial and occupational unit, the general testing #2 unit, the pediatric unit, the school unit, the aeromedical unit and the push button perimeter attachment. Some pages are dated 1970 to 1973.
Historical Significance:
Vision screening in industry to ensure work place safety and work efficiency emerged in the 1940s and gained impetus through the perceived need to test the vision of servicemen in World War 2 (1939 - 1945). After the war the use of vision screening instruments increased in manufacturing industry as a result of increased awareness of a responsibility for the safety of workers and were also adopted by schools and agencies responsible for statutory vision standards. Research in the 1980s (e.g the Orinda Study 1984) cast doubt over the sensitivity and specificity of lay operated vision screening instruments and they are less widely used today. The Kett Museum holds several vision screeners. See Cat nos.1646, 1650, 1665 and 2141.Titmus was founded in Petersburg, Virginia, USA in 1908 and started out manufacturing glass ophthalmic lenses. In the 1950s, it expanded its business to include sunglasses, frames and contact lenses. In 1973, the company was bought by Carl Zeiss AG, a German manufacturer of optical, industrial and medical devices and systems. Titmus employed 1,000 people at the time In 1995, Carl Zeiss sold the Titmus business to a French company, Sperian, which in turn was acquired in 2012 by Honeywell International. Its building in Petersburg was sold in 2017. The former Titmus business now focuses on making frames for prescription safety glasses under the Uvex brand, and is headquartered at one of Honeywell's facilities in Chesterfield County. The Titmus Vision Screener is still made in various models by Honeywell Industrial Safety.
Location:
Archive office. Pamphlet and ephemera filing cabinet. Drawer 8