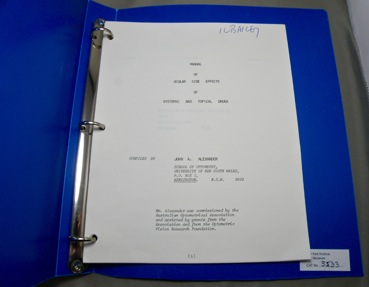 Manual of ocular side effects of systemic and topical drugs
Sub-Category:
Book of historical note
Author:
ALEXANDER, John A
Year Of Publication/Manufacture:
1977
Time Period:
1940 to 1999
Place Of Publication/Manufacture:
Melbourne
Publisher/Manufacturer:
Australian Optometrical Association
Description Of Item:
Blue plastic 3-ring folder, 299 x 210 mm, 42 quarto size pages, typescript printed by a duplicating machine. There are 5 sections: A introduction, B Therapeutic outline, C Ocular side-effects and contraindications, D Therapeutic index and E Combined name indexName of previous owner Ian Bailey on title page
Historical Significance:
This book was commissioned by the Australian Optometrical Association and funded by grants from the Association and the Optometric Vision Research Foundation. It was written at the time when optometrists were becoming increasingly aware of their wider role as primary care health practitioners and had a desire to work in cooperation with the medical profession. Also at the time the number of therapeutic drugs was proliferating and there was increased awareness that many of them had side-effects. On the half titile page of the book it is priced at $8 including postage.John (Jack) Alexander was an optometrist who qualified at the Sydney Technical College in 1955 and later completed a conversion course for a BSc degree at the then new University of NSW. He completed a PhD degree at the same university in 1980. He was a full-time academic in the school of optometry at the University of NSW. He retired as senior lecturer in 1997.
How Acquired:
Donated by Ian Bailey, honorary life member of the College
Location:
Archive room. East wall. Books by Australian authors