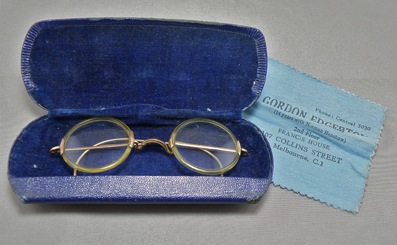 Child's round-eye shell and gold spectacles with snap case
Category:
Spectacles and lenses
Sub-Category:
Spectacles with case
Year Of Publication/Manufacture:
c 1945
Time Period:
1940 to 1999
Description Of Item:
Small round-eye shell rims with gold filled curl temples and gold bridge (with added comfort padding), 105 x 36 mm, glazed with R and L glass lenses +1.25 D, contained in a small navy blue snap case, 130 x 55 mm, stamped on underside 'Gordon Edgerton / Spectacle Specialist / FRANCIS HOUSE/ 107 Collins St, Melb '. The case also contains an original blue coloured cleaning cloth printed with the name Gordon Edgerton and his address etc. Case: 130 x 55 mm
Historical Significance:
A note inside the case records that these spectacles originally belonged to Mrs Val Haag of Benalla, Victoria, who gave them to Shepparton optometrist, Mr Graham Hill. The note also records she wore them around 1942 and 1943 when she was 18 months old.
How Acquired:
Donated by Graham Hill
Location:
Archive Office. Spectacles cabinet Drawer 1