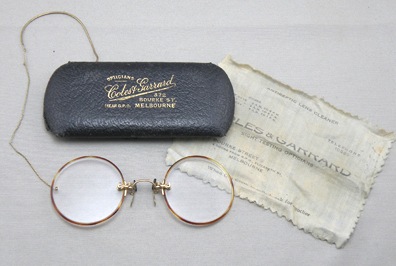 Round-eye pince-nez with thin shell rim, a chain and case
Category:
Spectacles and lenses
Year Of Publication/Manufacture:
c 1930
Time Period:
1900 to 1939
Description Of Item:
Pince-nez, 100 x 40 mm, featuring unusual very thin round-eye 'tortoise shell' rims, gold bridge with finger tip adjusting pads, glazed with flat glass lenses R plano, L low plus cyl. Inside bridge stamped with a company logo and '1/10 2'. A gold chain with ear loop is attached through a drilled hole in the right lens. It is contained in a small metal snap case covered in black fabric and lined with black velvet. The underside of the case is stamped 'OPTICIANS/ COLES & GARRARD / 372 / BOURKE ST. / NEAR GPO MELBOURNE. Included in the case is an original cleaning cloth for Coles and Garrard, sight testing opticians, with address and opening hours. The telephone number given is 10595.
Historical Significance:
Coles and Garrard, sight-testing opticians, Melbourne, was founded in March 1922 so these spectacles were made after that date but because of the early telephone number, most likely before 1930
How Acquired:
Donated by Graham Hill, honorary life member of the College
Condition:
Good but the fabric covering of the case is damaged
Location:
Archive Office. Spectacles cabinet Drawer 1