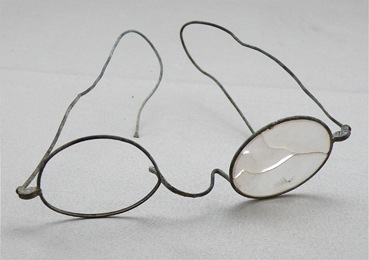 Round-eye wire spectacles
Category:
Spectacles and lenses
Sub-Category:
Spectacles (with lenses)
Year Of Publication/Manufacture:
c 1860
Description Of Item:
Round-eye spectacles, 120 x 38 mm, wire rims and wire curl sides with simple W metal bridge. The right lens is missing. The left lens is cracked and crazed and is flat glass of power +2.50 D. Frame size 32/26.
Historical Significance:
The donor has provided a note reading':The one lens specs were made about 1860. Found in a rubbish heap in the Rushworth forest by David Barton, I believe made by a gold miner' . It is unlikely they were made by a gold miner but probable that they belonged to a gold miner working in the gold fields near Rushworth, Victoria. Rushworth is a town of 1300 people, 180 km north of Melbourne, that was first settled by European pastoralists in 1845. Gold was discovered 1.5 km east of Rushworth in August 1853. At its peak Rushworth had 26 mines and a population of 40 000. The Rushworth forest is about 4 km south-east of Rushworth.
How Acquired:
Donated by Graham Hill, honorary life member of the College
Condition:
Poor. Wire sides and bridge distorted, one lens missing and the other cracked
Location:
Archive Office. Spectacles cabinet Drawer 11