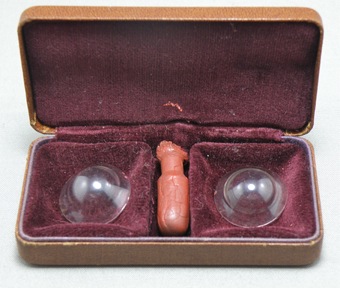 Pair of Scleral (Haptic) Contact Lenses in Case and two accompanying documents.
Category:
Spectacles and lenses
Sub-Category:
Contact lenses and accessories
Corporation:
Bausch and Lomb ?
Year Of Publication/Manufacture:
1950
Time Period:
1940 to 1999
Place Of Publication/Manufacture:
Johannesburg, South Africa
Publisher/Manufacturer:
Bausch and Lomb ?
Description Of Item:
Two rigid (PMMA) scleral contact lenses in a brown patterned metal spring-hinged case 82 mm x 41 mm x 18 mm. Case is lined in burgundy velveteen and has recessed compartments for lenses and a lens remover. Maximum lens diameter is 24 mm. Right lens (-1.00 D) has a single brown dot on the upper edge, left lens (+0.75 D) has two dots. Red rubber suction type lens remover is party perished and 28 mm long with diameter of 9 mm. Documents written by the donor provide provenance details.
Historical Significance:
These lenses were fitted by Dr. Herbert Kaye, DO, FRCS, FRCOphth., who helped establish the Ophthalmological Department of the Transvaal Memorial Hospital for Children in Johannesburg, South Africa, to the donor whose age was then nine. The lenses are believed to be manufactured in South Africa by Bausch and Lomb who were at the time investigating the development of a mass produced scleral lens based on the designs of William Feinbloom (1903-1985).
How Acquired:
Donated by Lyonel Elston
Condition:
Good. Some marks on the underside of the case.
Location:
Archive room. West wall. Unit 6 Drawer 2