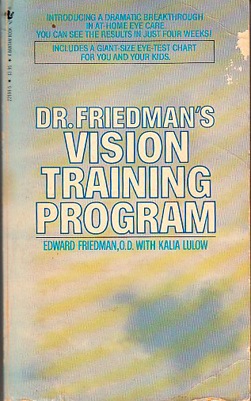 Dr Friedman's vision training program
Sub-Category:
Book of historical note
Author:
FRIEDMAN Edward (with Kalia Lulow)
Year Of Publication/Manufacture:
1988
Time Period:
1940 to 1999
Place Of Publication/Manufacture:
New York
Publisher/Manufacturer:
Bantam Press Inc
Description Of Item:
Paperback, 175 x 115 mm, 237 numbered pages and several unnumbered. Illustrated in black and white throughout text. Folding standard visual acuity chart backed by a children's symbol chart pasted inside back cover
Historical Significance:
Edward Friedman was a New York optometrist. Its approach is behavioural optometry and is directed more to parents than to optometrists.
How Acquired:
Donated by Elizabeth Hatfield, Fellow of the College
Location:
Archive room. East wall. Books of historical note