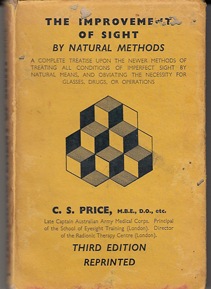 The improvement of sight by natural methods
Sub-Category:
Book of historical note
Year Of Publication/Manufacture:
1946
Edition:
3rd edition (reprinted)
Time Period:
1940 to 1999
Place Of Publication/Manufacture:
London
Publisher/Manufacturer:
Chapman and Hall Ltd
Description Of Item:
Printed yellow paper dust cover, original grey cloth cover, 190 x 120 mm, 258 pages, black and white figures in text. Ink stamp for Collins Book Depot Pty Ltd on front fly leaf
Historical Significance:
This is the third edition first published 1940 which was reprinted four times. This copy is the fourth printing. The first edition was published in 1934. The author, Cecil S Price MBE, DO is described as formally a Captain in the Australian Army Medical Corps, principal of the School of Eyesight training (London) and Director of the Radionic Therapy Centre (London). He is also ascribed as having been training by William Horatio Bates MD (1860-1931) (see Better Eyesight Magazine edited by W. H. Bates). See books on a similar subject by MacFadden (1901 # 429, 1925 # 1081), Bates 1920, 1944 (#98, # 250), Benjamin 1935, 1940 (#94, # 252), Hauser c1960 (#576), Goodrich 1990, 1996 (# 4290, # 3291).
How Acquired:
Donated by Elizabeth Hatfield, Fellow of the College
Location:
Archive room. East wall. Books of historical note