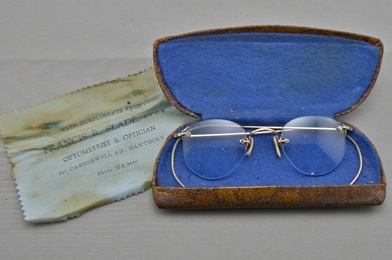 Rimless spectacles with Crookes A2 lenses and snap case
Category:
Spectacles and lenses
Sub-Category:
Spectacles with case
Year Of Publication/Manufacture:
c 1950
Time Period:
1940 to 1999
Description Of Item:
Gold-filled, three-piece, four-hole rimless frame, 100 x 36 mm, with pad bridge and curl sides glazed with Fulvue shaped Crookes A2 meniscus glass lenses, approx. R and L +0.50 D. Back of the bridge of the frame stamped '850 1/10 12K GP'. The spectacles are contained in a metal snap case, 145 x 65 mm, with brown pebble fabric covering and blue velvet lining, gold stamped 'FRANCIS R SLADE / FVOA / indecipherable Camberwell address. Accompanied by a light blue lens cleaning cloth marked 'WITH COMPLIMENTS FROM / FRANCIS R SLADE FVOA / OPTOMETRIST AND OPTICIAN / 210 CAMBERWELL ROAD HAWTHORN / PHONE WA 3640'.
Historical Significance:
Francis Slade was a long-standing optometrist in Camberwell, Melbourne, Australia. He was registered in 1936 under the then new Opticians Registration Act of 1935 as practising at 560 Burke Road, Camberwell and afterwards moved to the address on this cleaning cloth in Camberwell Road, where he practised until the 1970s. He held Fellowship of the Victorian Optical Association (FVOA) by examination. Crookes tinted lenses were commonly prescribed in the 1940s and 1950s.
How Acquired:
Donated by Elizabeth Hatfield, Fellow of the College
Condition:
Glasses good. Case fair, cloth stained
Location:
Archive Office. Spectacles cabinet Drawer 17