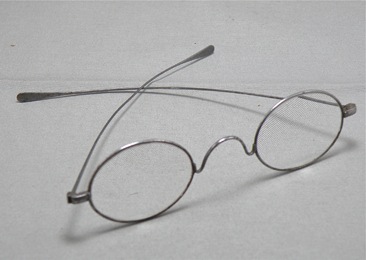 Oval eye steel rim spectacles
Category:
Spectacles and lenses
Sub-Category:
Spectacles (with lenses)
Year Of Publication/Manufacture:
c1895
Description Of Item:
Oval eye steel rim spectacle frame, 145 x 30 mm, with W-bridge and straight temples, glazed with flat glass lenses R and L + 4.00 D Sph. Frame size about 38 x 24. Each temple tip impressed 'PEBBLES'.
How Acquired:
Donated by Elizabeth Hatfield, Fellow of the College
Condition:
Early rusting on rims, otherwise good
Location:
Archive Office. Spectacles cabinet Drawer 11