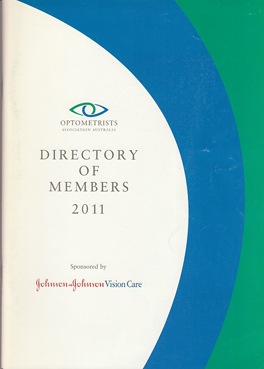 Directory of Members 2011
Category:
Periodical, magazine
Sub-Category:
Optometry Association papers, reports
Association:
Optometrists Association Australia
Year Of Publication/Manufacture:
2011
Place Of Publication/Manufacture:
Melbourne
Publisher/Manufacturer:
Optometrists Association Australia
Description Of Item:
White soft card covers, stapled, 297 mm x 210 mm with stylised lens shape in green and blue and OAA logo in green and blue. Grey printed with Directory of Members 2009, Sponsored by Johnson & Johnson Visioncare in blue and red. 78 pages containing geographical and alphabetical listing of optometrists and their addresses and telephone numbers, interspersed with advertisements for Johnson & Johnson
Historical Significance:
Directories of Australia Optometrists were produced by Optometrists Association Australia (now Optometry Australia) for the use of its members. Cat. Nos. 3348, 3349, 3350, 3351, 3352, 3353, 3354, 3355, 3356, 3357, 3809, 3810, 3811.
How Acquired:
Donated by Colin Bates
Location:
Archive office. South wall. Cube 2