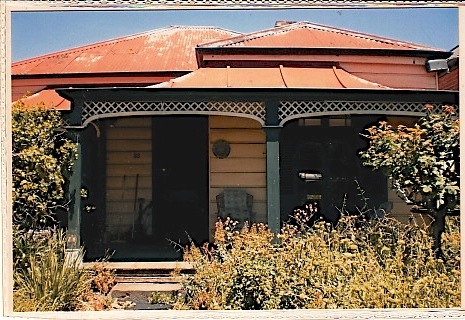 Collection of papers and images for Henry William Vanheems
Sub-Category:
Collection of papers (People) incl CVs
Time Period:
1900 to 1939
Description Of Item:
Collection of papers and images for Melbourne optometrist, Henry William Vanheems (1831-1917), viz: (1) reprint of a profile of Henry Vanheems by Wolfgang F. Gartner published in Clin Exp Optom 2006; 89:100-101, (2) Photocopy of the first page (page 15) of an article 'Scientific instrument makers and dealers in Victoria 1840-1914' by H.C. Bolton and Nicola H. Williams in Historical Records of Australian Science Vol 13, No. 1 and pages 72 and 73, which contain the record for Henry Vanheems, (3) a postcard addressed to Vanheems at Leslie Street Richmond and dated 21 November 1905 from a patient requesting an appointment to see Vanheems, (4) a colour photographic print of the front of Vanheems house at 36 Leslie Street Richmond at which Vanheems conducted his optometry lessons. The photo is inscribed on the reverse with the address and the date of the photo December 2009, (5) scan and printout of a hand-written letter dated November 18 1977 from Melbourne optometrist Roy Holdsworth to the great grand daughter of Henry Vanheems, Charmaine Teese (now Robson), describing Vanheems and the nature of the lessons in optometry given to Holdsworth by Vanheems, together with a typed transcript of the letter, (6) letters to Charmaine Teese from Melbourne optometrist Frank Slade dated October 27 1977 and the Registrar of the Victorian Optometrists Registration Board dated 10th October 1977 in reply to enquiries about Henry Vanheems.
Historical Significance:
See catalogue No. 787 for a booklet written by Vanheems. William Henry Vanheems (1813-1917) was one of the early optometry tutors in Melbourne. Henry Vanheems was made one of the first honorary life members of the Victorian Optical Association in 1913. He was honoured by the Association for his highly respected teaching of so many Melbourne optometrists and for his help in planning the Fellowship course of the Association in 1912. See Gartner WF. William Henry Vanheems 1831-1917 Clin Exp Optom 2006; 89: 100-101 and also on this web site under the tab 'People who made history' for more information.
How Acquired:
Donated by Michael Aitken, honorary archivist and Charmaine Robson, great granddaughter of Henry Vanheems
Location:
Archive office. Pamphlet and ephemera filing cabinet. Drawer 7