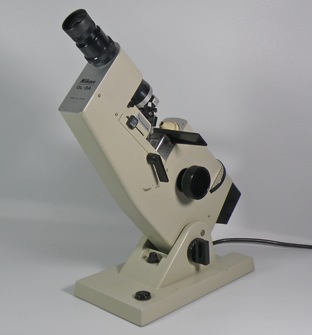 Nikon OL-5A Lensmeter (vertometer, focimeter)
Sub-Category:
Vertometer, lensometer, focimeter
Year Of Publication/Manufacture:
c1980
Time Period:
1940 to 1999
Place Of Publication/Manufacture:
Japan
Publisher/Manufacturer:
Nikon Corporation
Description Of Item:
Nikon Lensmeter (or vertometer or focimeter) to measure lens powers. Marked in black: 'Nikon/ OL-5A/ MADE IN JAPAN/ 37816'. Grey metal body on grey base. Black eyepiece, lens shelf and bulb housing. Black controls for lens power adjustment, axis, instrument angle and on/off switch. Internally illuminated green display of target image and powers. Axis indicated externally on rotating disc. Three pronged lens ink marker. Black electrical lead. Dimensions: 460 x 173 x 270 mm.
Historical Significance:
Nippon K gaku K gy Kabushikigaisha ("Japan Optical Industries Corporation") was founded in 1917 and was renamed Nikon Corporation, after its cameras, in 1988. The name Nikon, which dates from 1946, is a merging of Nippon K gaku ("Japan Optical") and Zeiss' brand Ikon. Graham Auld (1939-2014) enjoyed a 50 year career in optics. He commenced his apprenticeship as an optical mechanic in 1955 for the Australian Optical Company in Queensland. Later he represented British Optical and Allso International in Queensland and Melbourne. He also worked with Optical Products and in 1998 the company joined with Charmant to introduce the first titanium spectacle frames to Australia. he had a small optical practice in Hampton. He was involved in the Scouting movement and the Rosebud lions Club. Ref: Obituary by Diane Quaife published in Insight, June 2014.
How Acquired:
Donated by Desley Mentha, daughter of Graham Auld
Location:
Archive office. South wall. Desk