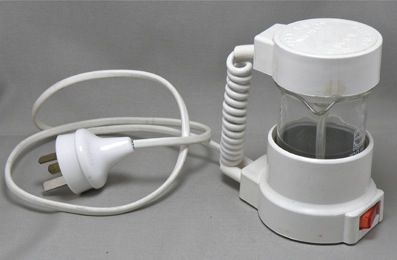 Soft Contact Lens Heater-Stirrer Cleaner
Sub-Category:
Contact lens equipment
Year Of Publication/Manufacture:
c 1985
Time Period:
1940 to 1999
Description Of Item:
White plastic bodied heated soft contact lens cleaner base with switch. White lid attached by coiled electrical flex has U shaped flexible stirring apparatus which dips into 100 ml beaker which is heated by the metal plate in the base. Dimensions115 x 120 x 60 mm. White electrical flex with 3 pin plug.
Historical Significance:
Devices of this kind were used for professional cleaning of daily wear HEMA soft contact lenses. Sodium perborate or products such as Liprofin were added to water and lenses in individual baskets were heated and stirred from 2 to 4 hours to attempt to remove deposits unable to be removed by normal patient maintenance. As lens materials developed, the use of heat was abandoned because of discolouration and damage caused.
How Acquired:
Donated by Colin Bates
Condition:
Good. Working order. Lens baskets missing
Location:
Archive room. West wall. Unit 6 Drawer 5