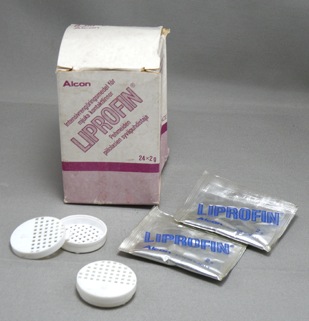 Liprofin Contact Lens Cleaner box, sachets and lens baskets
Sub-Category:
Contact lens equipment
Year Of Publication/Manufacture:
c 1985
Time Period:
1940 to 1999
Place Of Publication/Manufacture:
Rumilly, France
Publisher/Manufacturer:
Alcon
Description Of Item:
White cardboard box 85 x 65 x 60 mm imprinted in mauve and purple with Liprofin Intensive Cleaner for Soft/Hydrophilic Contact Lenses and 24 x 2g in English and Dutch, Swedish and Finnish on opposite sides and Alcon F-74150 Rumilly France on the adjacent sides. Keep out of children's reach on one of the adjacent sides and For professional use only on the other, also in the same four languages. The box contains two 2g sachets of Liprofin powder (Sodium perborate) with Cleaner for Contact Lenses and Do not swallow imprinted in blue in French, German, English, Italian and Dutch and three two-piece white lens baskets 30 mm in diameter.
Historical Significance:
Liprofin was one of a number of products produced to professionally clean soft contact lenses as they were prone to accumulate denatured protein and lipid deposits especially if the lenses were heat disinfected. Normal mechanical (finger rubbing with detergent cleaners) cleaning was unable to remove the deposits. Liprofin was added to water and heated. The lenses were placed in baskets and stirred in the solution for 30 to 60 minutes, then mechanically cleaned and disinfected before being returned to the patient. Not all lenses survived the treatment.
How Acquired:
Donated by Robert Kaye
Date Acquired:
26/10/2017
Location:
Archive room. West wall. Unit 6 Drawer 5