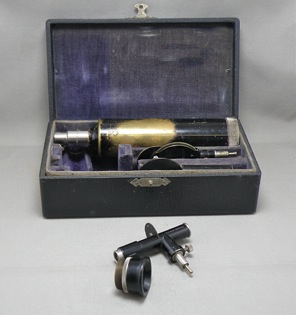 Bausch & Lomb diagnostic set
Sub-Category:
Ophthalmoscope retinoscope set
Designer/inventor:
William L Patterson
Year Of Publication/Manufacture:
c1930
Time Period:
1900 to 1939
Place Of Publication/Manufacture:
Rochester, NY, USA
Publisher/Manufacturer:
Bausch & Lomb Optical Co
Description Of Item:
Diagnostic set comprising metal battery handle, May ophthalmoscope, spot retinoscope, optical instrument as a hand slit lamp, spare bulb and printed instruction card in fitted case. Ophthalmoscope with single wheel of lenses impressed 'BAUSCH & LOMB OPT. Co/ ROCHESTER, N.Y., U.S.A./ MAY OPHTHALMOSCOPE/ PATENTED.' Spot retinoscope head marked 'BAUSCH & LOMB OPTICAL Co. ROCHESTER, N.Y.,U.S.A.' The third optical instrument is marked 'PATENT 1631329' and has a large eyepiece with a magnifying lens mounted at an angle to the illumination beam. It has a wheel of five different apertures, three round and two slits. This forms a monocular hand-held slit-lamp. The fitted, hinged case is covered in black leatherette and lined with purple velvet. Case: 185 x 103 x 62 mm.
Historical Significance:
US Patent 1631329, filed 29 April 1925, was granted on 7 June 1927 to William L Patterson and assigned to Bausch & Lomb Optical Co, Rochester, NY for an 'Optical Instrument' designed to give a magnified view of the external eye.
How Acquired:
Donated by Estate of William Cooper via Peter Lewis
Condition:
Case & instruments: good except black enamel bady worn on battery case
Location:
Archive Office. Cabinet One Drawer 15