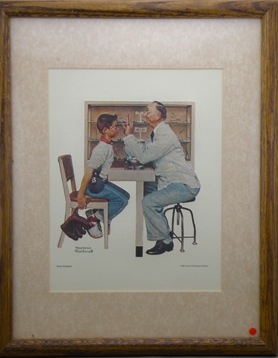 Category:
Painting or other art work
Sub-Category:
Print or poster
Year Of Publication/Manufacture:
1956
Time Period:
1940 to 1999
Place Of Publication/Manufacture:
Philadelphia, Pennsylvania, USA
Publisher/Manufacturer:
Curtis Publishing Company
Description Of Item:
Colour print of Norman Rockwells' 'New glasses', 189 x 243 mm, in glazed timber frame, 310 x 387 mm, The print bears the artist's name Norman Rockwell: and the publisher's name and the date. A gold coloured label on the back reads 'NORMAN ROCKWELL MUSEUM / OF VERMONT / (802) 733-6095 / RUTLAND VT 05701 / WWW.NORMANROCKWELLVT.COM'
Historical Significance:
The Curtis Publishing Company was founded in 1891 in Philadelphia, Pennsylvania, and became one of the largest and most influential publishers in the United States during the early 20th century. The company's publications included the Ladies' Home Journal and The Saturday Evening Post, The American Home, Holiday, Jack & Jill, and Country Gentleman. It went out of business in 1969. Norman Perceval Rockwell (1894 - 1978) was a 20th-century American author, painter and illustrator. His works enjoy a broad popular appeal in the United States for their reflection of American culture. Rockwell is most famous for the cover illustrations of everyday life he created for The Saturday Evening Post magazine over nearly five decades.
How Acquired:
Donated by Optometry Australia