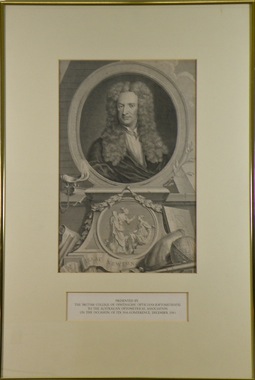 Framed print of an etching of Sir Isaac Newton
Category:
Painting or other art work
Sub-Category:
Drawing or etching
Artist:
HOUBRAKEN Jacobus
Year Of Publication/Manufacture:
1981
Time Period:
1940 to 1999
Place Of Publication/Manufacture:
London
Description Of Item:
Monochrome print, 215 x 330 mm, of a line etching by Jacobus Houbraken of Sir Isaac Newton, made after an oil painting by Sir Godfrey Kneller, Bt (1702), framed in a glazed brass coloured metal frame, 400 x 590 mm, with the following inscription set into the slip 'PRESENTED BY / THE BRITISH COLLEGE OF OPHTHALMIC OPTICIANS (OPTOMETRISTS) / TO THE AUSTRALIAN OPTOMETRICAL ASSOCIATION / ON THE OCCASION OF ITS 3Oth CONFERENCE DECEMBER 1984'
Historical Significance:
The engraver, Jacobus Houbraken (1698-1780), was the leading portrait engraver in 18th century Holland. He was the son of the painter and art writer Arnold Houbraken. He settled in Amsterdam in 1707 and during his lifetime engraved 400 portraits after paintings by contemporary painters. Working with the historian and artist, George Vertue, Houbraken engraved most of the important representations of Britain's most noted men from the past. The project was entitled The Heads of Illustrious Persons of Great Britain and was published in London between 1743 and 1756. See one example in the Royal Collection Trust Jacobus Houbraken (1698-1780). The Heads of Illustrious Persons of Great Britain, published 1756. https://www.royalcollection.org.uk/collection/809344/the-heads-of-illustrious-persons-of-great-britain. This is a volume of 108 portraits and short biographies written by Thomas Birch of famous English people, bound in tan leather with gilt tooling. Sir Isaac Newton FRS (1642 -1726) was an English mathematician, astronomer, and physicist who is widely recognised as one of the most influential scientists of all time and a key figure in the scientific revolution. His book Philosophi? Naturalis Principia Mathematica ("Mathematical Principles of Natural Philosophy"), first published in 1687, laid the foundations of classical mechanics. Newton also made seminal contributions to optics which are the foundation of the optics underpinning the profession of optometry.
How Acquired:
Donated by Optometry Australia