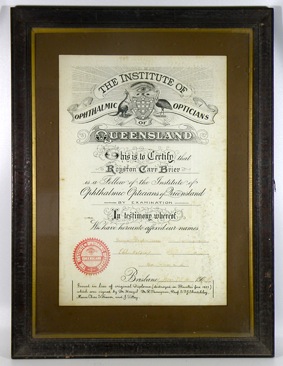 Certificate of Fellowship of the Institute of Ophthalmic Opticians of Queensland for Royston Carr Brier
Sub-Category:
Certificate, diploma
Association:
The Institute of Ophthalmic Opticians of Queensland
Year Of Publication/Manufacture:
1924
Time Period:
1900 to 1939
Place Of Publication/Manufacture:
Brisbane, Queensland, Australia
Description Of Item:
Certificate of Fellowship of the Institute of Ophthalmic Opticians of Queensland for Royston Carr Brier dated June 24 1924 being a replacement for the original certificate issued in 1909 that was destroyed by fire in the Favelle optometric firm Brisbane premises in 1923. Plain wooden frame, glazed, 464 x 615 mm, with dark brown slip around the certificate 300 x 440 mm. At the bottom of the certificate is a hand written note stating this certificate was issued in lieu of the original diploma that was destroyed by fire in 1923
Historical Significance:
The certificate states the Fellowship was obtained by examination. The Queensland Institute of Ophthalmic Opticians was founded in 1908 and initially issued the FIOOQ to all members. Somewhat over-enthusiastically it had opened membership to opticians' assistants and mechanics, optical wholesalers and ophthalmologists. The Institute soon changed this so members became associates and only those who passed an examination in sight testing would be Fellows. The Institute set up an examinations board in its first year. Those appointed to the Board included Professor Sydney Skertchly, the distinguished geologist and naturalist and optometry's white knight, who chaired the examinations board, and two ophthalmologists, among others. Its syllabus included theory of light and lenses and study of the anatomy of the eye for Associateship and examinations in sight testing for Fellowship. The first examinations were held in 1909. This arrangement came to an end in 1922 after the Opticians Act was passed in 1917 and the Queensland Registration Board set up its own course and examinations. Royston Brier (1884-1977) was a prominent figure in Queensland optometry. He was the chief optician and director of Flavelle Brothers, the first firm of opticians established in Brisbane and was a founding member of the Institute of Ophthalmic Opticians of Queensland (IOOQ) in 1908. He was admitted to Fellowship of the Institute by examination in the following year. The IOOQ was the original state professional association that evolved into the Institute of Optometrists (Queensland) (IOQ) in 1934, the Australian Optometrical Association (AOA) (Queensland Division) in 1952, Optometrists Association Australia (Queensland Northern Territory Division) in 1998 and Optometry Queensland Northern Territory in 2014. For 30 years, Royston Brier served the institute diligently as a member of Council (1908-1938), including Secretary (1908-12), Vice-President (1921 and 1927), President 1922 and 1928) and member of the examinations board (1922-23). He played a role in getting the Opticians Act in Queensland in 1917 and in the formation of the national Australasian Optometrical Association in 1918.
How Acquired:
Donated by Optometry Australia
Condition:
Good except signatures are faded
Location:
Archived journals room Unit 2