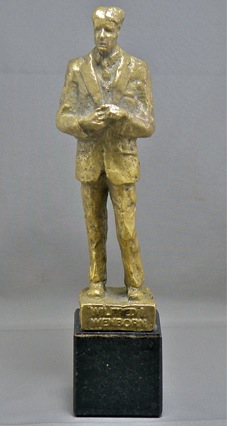 Statuette of Wilfred Wenborn
Category:
Painting or other art work
Time Period:
1940 to 1999
Description Of Item:
Cast gold coloured metal statuette, 245 mm high, on black marble base, 55 x 55 x 55 mm, with felt under. In raised letters on the front of the base of the statuette itself are the words 'WILFRED I WENBORN'
Historical Significance:
Wilfred Wenborn (1883-1976) was a stalwart of the optometry profession in Australia for more than 50 years. He joined the then very new NSW optometrical association in 1905 and was elected to its committee in 1909. He was NSW State president in 1917 and National President in 1919. (See his Obit Aust J Optom Nov 1976 397). He served on the NSW Registration Board for many years retiring in 1951 (See AJO 1951 Sep p 415.) at which occasion it was said he was 'highly regarded for his analytical approach to the many problems confronting the Board and for his capacity for deep thought and clear conception of complex matters.' He was one of two representatives from New South Wales to the 1st national conference of the State optometric associations held in Melbourne in 1918, at which it was decided to form the national Australasian Optometrical Association. He was the best prepared delegate and the most persuasive of the speakers. He was aged 35 at the time of the meeting. Wright (1988) describes him as 'lean but strongly built, austere, clean-cut with straight centre-parted thick hair' and an 'eloquent logical speaker who relished his phrases.' He moved the resolutions at the 1918 conference that established the national association and also the national optometric journal, then the Commonwealth Optometrist and now Clinical and Experimental Optometry. He attended 21 successive national conferences of the Association over 38 years, the last in 1956, at the age of 73 and was bitterly disappointed not to be appointed a delegate again. This statuette may have presented to recipients of the Wenborn Award but no record of this award is to be found in the Aust J Optom. As of 2018, the award has been presented only one time. The recipient was Professor Brian Layland. In Charles Wright's obituary (CXO 2005 86 p 413 ) it is reported that he (Wright) designed the certificates for the Wenborn award. Wright was a sculptor (See Cat No 0009 for one his sculptures) and may have also sculpted this statuette.
How Acquired:
Donated by Optometry Australia
Location:
Archive room. West wall. Unit 3 Drawer 3