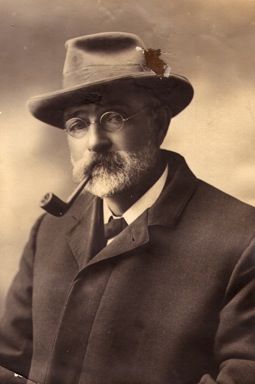 Photographs of Professor Sydney Barber Josiah Skertchly (1850-1926)
Sub-Category:
Photograph People and events
Year Of Publication/Manufacture:
1871 to 1920
Time Period:
1900 to 1939
Description Of Item:
Six digital monochrome images of Professor Sydney Skertchly who was much involved in improving optometrical education in Queensland in the first two decades of the 20th C and in securing legislation to regulate the profession in Queensland in 1917. Image A. Dated 1871, aged 21, sepia, 300 x 502, 445 kb, source: British Geological Survey (Catalogue number P545391): Image B. Dated 1877, aged 27, 332 x 420, 408 kb, Source: Westaway, M.C.. Bull History Archaeology 2012; 22:14: Image Image C. Dated 1879, aged 29 years, sepia, 293 x 501, 430 kb, source: British Geological Survey (Catalogue number P545392):Image D. Undated c 1910, 1509 x 2274, 9.8 Mb, Source: Queensland Naturalists' Club:Image E. Undated, c 1900, 3541 x 4851, 49 Mb, Source: Queensland Naturalists' Club Image F. Undated c 1920, aged about 70, 279 x 413, 337 kb., source: A.H. Chisholm.
Historical Significance:
Professor Sydney Barber Josiah Skertchly was the 'white knight' for Queensland optometry who helped the profession achieve legislative recognition and improve its educational standards. He was a naturalist not an optometrist but was elected a vice-president of the Queensland Institute of Ophthalmic Opticians at its first Annual General Meeting in 1909 and appointed to its Examining Board in 1910 to become its chairman. He remained in that role until 1925: fifteen years of voluntary work for another profession is worthy public service. Skertchly (1850-1926) was born and educated in England. He was a scientist of some note in the fields of geology, anthropology and natural history. He published a number of books, papers and reports of significance and his views on the nature of antiquity, published in Nature in 1876, aroused controversy. He was good friends with Charles Darwin. He initially worked for H.M. Geological Survey of Britain and was an assistant geologist for a project in Egypt. He travelled to work as a geologist in America, China and Borneo. He became professor of Botany in the College of Medicine for Chinese in Hong Kong where he taught Sun Yat-Sen, who would become the first President of the Republic of China in 1912. Skertchly moved to Australia in 1891 because of the Sino-Japanese war and worked for the Geological Survey of Queensland. He was a President of the Royal Society of Queensland in 1898 and founded the Field Naturalist's Club in 1906. He is described in a tribute on his death as 'a most remarkable and many-sided man with a distinct touch of genius ... quick-brained, silver-tongued, with a retentive memory, he had a marvellous range of knowledge and distinctive literary style'. See his profile by Vincent SJ. Sydney Barber Josiah Skertchly (1850-1926): scientist, educator and advocate for Queensland optometry. Clin Exp Optom 2017.
How Acquired:
Donated by Stephen Vincent, QUT who sourced five of the images
Location:
Archive computer iPhoto