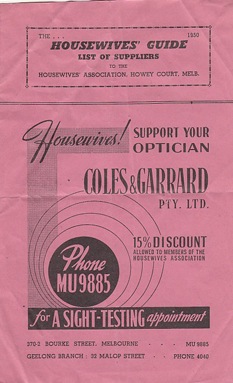 Housewives Guide. List of suppliers
Category:
Memorabilia and ephemera
Sub-Category:
Advertising, ophthalmic practitioners
Association:
Housewives Association
Year Of Publication/Manufacture:
1950
Time Period:
1940 to 1999
Place Of Publication/Manufacture:
Melbourne
Publisher/Manufacturer:
Housewives Association
Description Of Item:
4 page pink paper leaflet, 220 x 140 mm, printed in black ink. The front cover carries a large advertisement for Coles & Garrard.
Historical Significance:
The Housewives Co-operative Association (later the Housewives Association of Victoria) was formed in mid-1915 and soon became one of the largest women's organisations in the state. The movement, reacting to the spiralling cost of living during World War I, initially aimed mainly at 'bringing the producer and consumer into direct contact' and providing discounted goods to members. In 1921, however, it also adopted a clear political objective: 'To advocate the equal status of women and adequate representation on all boards and tribunals dealing with the home and the cost of living.' From the 1930s the Association focussed more on the provision of training and information relating to household management and also became more involved in broader activism to improve the civil and political status of women and with other social reform causes. Coles and Garrard Pty Ltd was the largest optometry firm in Melbourne until it was sold to OPSM in 1988 and ceased trading under its name a few years afterwards. It was established in March 1922 and located at 370 to 372 Bourke Street. From the 1940s it established branches in country towns and at the Chadstone Shopping Centre in 1960. The founding proprietor, Earle Coles, was very entrepreneurial and quickly expanded his business by regular advertising and offering discounts to members of associations and institutions. The Housewives Association of Victoria was one of them as is clearly evident on the front page and inside this directory of suppliers. The back page gives information on its operations and scope of activities.
How Acquired:
Donated by Pamela Sutton, honorary archivist
Condition:
Good except for a perforation on page 3
Location:
Archive office. Pamphlet and ephemera filing cabinet. Drawer 7