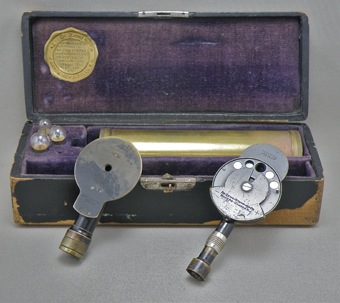 Cased De Zeng ophthalmoscope and retinoscope set
Sub-Category:
Ophthalmoscope retinoscope set
Designer/inventor:
Henry L De Zeng
Year Of Publication/Manufacture:
c1925
Time Period:
1900 to 1939
Place Of Publication/Manufacture:
Camden, New Jersey, USA
Publisher/Manufacturer:
De Zeng
Description Of Item:
Cased ophthalmoscope, retinoscope, battery handle and 3 spare globes. Ophthalmoscope head impressed 'DE ZENG STANDARD Co. MAKERS CAMDEN N.J. PATENTED JAN 19.04'. Retinoscope head impressed 'WELLSWORTH DE ZENG/ Simplex No 240/ PAT 12.21.15/ 7.18.22'. Brass battery handle: 'DE ZENG STANDARD Co. CAMDEN N.J. MAKERS'.Fitted case covered in black leatherette, lined with purple velvet. Lid of case is completely detached from body of case.Inside lid carries an impressed metal label in the form of a seal giving a list of the manufacturer's products. Case: 195 x 74 x 55mm. Instrument: 245 x 43 x 38 mm. Ophthalmoscope only in Museum Gallery.
Historical Significance:
Henry DeZeng was a prolific inventor of many eye and ear, nose and throat instruments but his first love was the ophthalmoscope. This is reflected in his many patents. He made the first practical electric ophthalmoscope, the first with a non-corrosive mirror, the first with illuminated lens indicating numbers and the first commercially produced ophthalmoscope with a battery contained in the handle. The list goes on, including being the first to use filters, a rheostat and standard commercial lamps. The DeZeng Company became part of American Optical in the early 1920s: Henry ended his career with a flourish, producing the Professional and the wonderfully named Knickerbocker ophthalmoscopes!
Condition:
Good but case damaged
Location:
Archive Office. Cabinet One Drawer 13