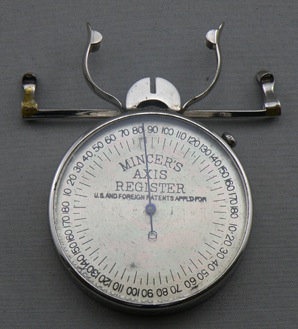 Mincer Instaneous Axis Register
Sub-Category:
Lens measure, lens clock
Corporation:
L. L. Mincer
Year Of Publication/Manufacture:
1908
Time Period:
1900 to 1939
Place Of Publication/Manufacture:
Rochester, New York
Publisher/Manufacturer:
L. L. Mincer
Description Of Item:
Nickel plated, glass faced dial measure for lens cylinder axes. Face is marked Mincer's Axis Register, O.S. and foreign patents appld. for and axis marks from 0 to 180 in 5 degree steps repeated around the circumference of the face. The central pointer is able to move through the full 360 degrees. The top of the device has two clamps attached, one part oval to hold lenses, the other straight, to hold spectacle frames. A mechanism for locking the pointer is activated by a lever on the top right of the device. The rear of the case is stamped 1377.
Historical Significance:
Axis registers preceded the invention of the focimeter by Troppman in 1912 as a means of measuring the axis of cylindrical lenses. Earlier versions of Mincer's instrument (c 1900) do not have the spectacle frame clamp. This version was advertised as 'new' in a November 1908 edition of Ophthalmic Review.
Location:
Archive office. East wall shelves unit 3. Drawer 2