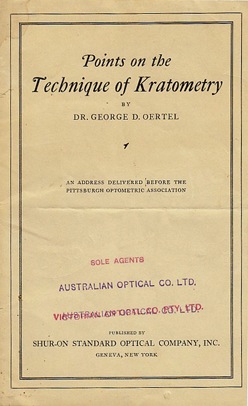 Points on the technique of kratometry
Year Of Publication/Manufacture:
c 1927
Time Period:
1900 to 1939
Place Of Publication/Manufacture:
Geneva, New York, USA
Publisher/Manufacturer:
Shur-on Standard Optical Company
Description Of Item:
Printed paper wrappers, 210 x 140 mm, stapled, 14 page. Old ink stamps for local agents Australian Optical company on front cover
Historical Significance:
This booklet is a printed version of an address given by the author to the Pittsburgh Optometric Association on October 18 1927. The author George Oertel DOpt FAAO from Syracuse, New York, was a president of the New York Optometric Association and has a 1933 paper in Optom Vis Sci 1933; 10: 280-293 on the physio-psychological approach to squint. Kratometer (kra?tom?e?ter) is a prism-refracting instrument for use in orthoptic training. See also the 'Modern Treatment of Binocular Imbalances with the Genothalmic Kratometer' by Ryer, LeRoy, and Peckham. Shur-On Optical Co. (1928). The instrument and the book are illustrative of the enthusiasm for binocular vision in the first half of the 20th CSee Cat No 240, 245 and 470 for other manuals for this instrument. See Cat No 305, 595 and 596 for books on the use of the Kratometer. The museum has an example of the instrument Cat No 913.
How Acquired:
Donated by Optometry Australia
Condition:
Good, except old horizontal fold and front cove near detachment
Location:
Archive office. Pamphlet and ephemera filing cabinet. Drawer 7