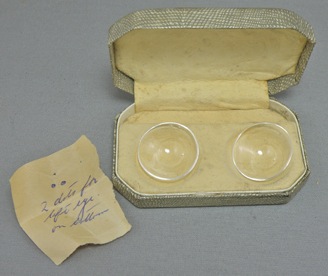 Scleral Contact Lenses and Case
Category:
Spectacles and lenses
Sub-Category:
Contact lenses and accessories
Practice/Business:
John Strachan
Year Of Publication/Manufacture:
1960's
Time Period:
1940 to 1999
Place Of Publication/Manufacture:
Melbourne
Publisher/Manufacturer:
John Strachan
Description Of Item:
Two rigid plastic (PMMA) scleral contact lenses, 25 mm overall diameter, each with a single fenestration at limbal zone and engraved with one or two dots at edge. Powers +3.50 DS both lenses. Original hinged double storage case lined with fawn coloured chamois & covered with fawn and grey textured material. Case: 77 mm x 47 mm x 22 mm. A small piece of folded yellowed paper 35 mm x 45 mm in the case bears the handwritten words '2 dots for left eye on bottom' A hand-written note provides details of the origin of the lenses. Original of handwritten note not in gallery display.
Historical Significance:
John Strachan, optometrist and contact lens pioneer, prescribed these lenses for a patient of Walter or Ian Swaby, optometrists, Hamilton when on one of his visits to the Western District of Victoria.
How Acquired:
Donated by Elizabeth Hatfield, optometrist
Condition:
Good, paper yellowed
Location:
Archive room. West wall. Unit 6 Drawer 2