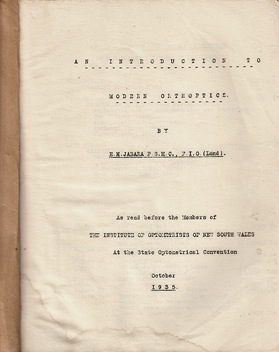 An introduction to modern orthoptics
Year Of Publication/Manufacture:
1935
Time Period:
1900 to 1939
Place Of Publication/Manufacture:
Melbourne
Publisher/Manufacturer:
Self-published
Description Of Item:
Booklet, plain light brown card covers, 208 x 261 mm, single-sided typescript, 39 numbered pages plus a 5 page preface. 8 figures, two tables. The title page states that the paper was read before the members of the Institute of Optometrists New South Wales in October 1930. It was published in Australian Journal of Optometry 1935; 18: 529-541 and 596-610. and 1936; 19: 8-24.
Historical Significance:
Ernest Jabara FSMC FIO (1697-1981) was a Melbourne optometrist practising at 71 Collins Street from 1924 until 1972 and was one of the founders of the Australian College of Optometry in 1939/1940 and deserves credit his role in this. He was the foundation chairman of the College Council, although he remained in that role for only a few years because of a dispute that caused his resignation. His resignation was triggered by an imperious arrogance, an unwillingness to consult and bring others with him, but also because he was not very good at getting things done (see Cat Nos. 0890 and 2535). The lecture recorded in this booklet reflects his character: the speech is long-winded and self-congratulately. It is however an example of the ideas about heterophoria, fusional reserves and convergence insufficiency emerging in the 1920s and 1930s. Jabara's background. His father was a jeweller in Swanston St Melbourne and he began training as a watchmaker after leaving school. He studied optometry for two semesters at Columbia University, New York, before travelling on to London to sit the FSMC examinations in 1923, his overseas studies were funded by his uncle Walter who lived in Sao Paulo, Brazil; he commenced practice at 71 Collins Street in 1924 (age 27). His qualification, FSMC, was from the Worshipful Company of Spectacle Makers which provided examinations but no tuition. In 1920s he may have studied at the London School of Optics (run by the Anglo-American Optical Company and also called the Anglo-American School of Optometry), or the Northampton Institute (later the City University), the British Optical Institute or the West Ham Municipal College in London. His qualification Fellowship of the Institute of Opticians (FIO) was a membership-based post-nominal not earned by study and examination by the Institute.
How Acquired:
Donated by Optometry Australia
Condition:
Good. Some damage to RH edge of the covers and slight staining of the cut edges of the right side of the pages
Location:
Archive office. Pamphlet and ephemera filing cabinet. Drawer 7