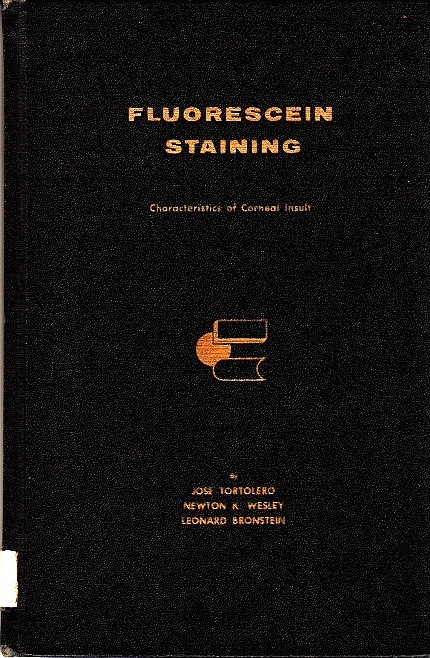 Fluorescein staining: characteristics of corneal insult
Sub-Category:
Efron Collection
Author:
TORTOLERO Jose, WESLEY R Newton, BRONSTEIN Leonard
Year Of Publication/Manufacture:
1959
Time Period:
1940 to 1999
Place Of Publication/Manufacture:
Chicago, Illinois, USA
Publisher/Manufacturer:
The Plastic Contact Lens Company
Description Of Item:
Gold stamped black imitation cloth hardback cover, 222 x 145 mm, 55 pages, 21 plates, one for each of the 21 conditions described, each plate comprised of (1) a front view photograph of the eye as seen under diffuse UV light with the fluorescein staining of the injury coloured green and inflammation coloured red, (2) a schematic line drawing of the front of the eye under diffuse biomicroscope illumination, and (3) a schematic line drawing of a sagittal biomicroscope view of the corneal lesion. One appendix. Library label on spine. Book label on the front paste down for the Wright library indicating the book was donated by Arthur H Ley in 1976. Ink stamp for the Wright Library on the front fly leaf which also has on it the signature of Arthur H Ley, dated 28.3.66
Historical Significance:
This book is largely about corneal conditions encountered in contact lens practice but also includes some other conditions. Its focus on contact lens practice in reflected in the fact that it was published by the Plastic Contact Lens Company. This company was founded in 1946 and one of the authors (Newton Wesley OD)) was one of the founders. Fluorescein staining for fitting contact lenses had been introduced by Theo Obrig in 1938. This is a relatively early book written at a time when scleral lenses were still a common form of contact lens. Micro corneal lenses were on the scene (from the late 1940s) but did not dominate contact lens practice until the 1960s. The former owner Arthur Ley was an Australian optometrist who practised in Tasmania and was a national president of the Australian Optometrical Association.
How Acquired:
Donated by Optometry Australia (Wright Library)
Condition:
Very good except for library sticker on spine and library stamp
Location:
Nathan Library. Efron Collection