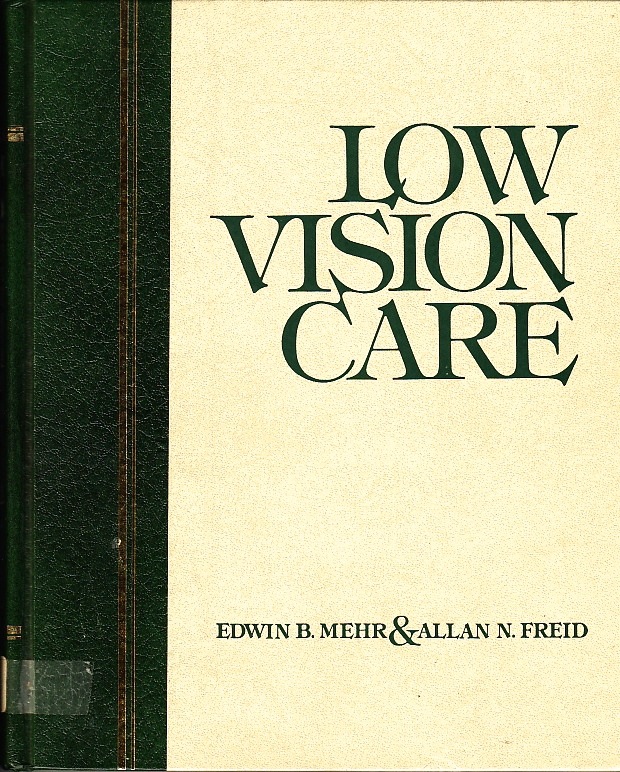 Sub-Category:
Book of historical note
Author:
MEHR Edwin B, FREID Allan N
Year Of Publication/Manufacture:
1975
Time Period:
1940 to 1999
Place Of Publication/Manufacture:
Chicago, Ill, USA
Publisher/Manufacturer:
The Professional Press, Inc
Description Of Item:
Green and gray printed boards, 260 x 215 mm, 254 pages and 3 unnumbered pages for the index, numerous black and white illustrations in text. Ink stamp for Australian Optometrical Association Wright Library on half title page and other pages in text.
Historical Significance:
Low vision rehabilitation took hold in the mid 20th century shifting emphasis from simply supporting the blind in adaptation to daily living activities to helping people with low vision make best use of their residual sight. This book is one of a number of books on the subject that were published at the time. William Feinbloom's wrote, "Introduction to the Principles and Practice of Sub-normal Vision Correction," in 1935 (as a journal article) was followed by his report on 500 low vision cases in the American Journal of Optometry and Archives of the American Academy of Optometry in 1938. The first textbook on children with low vision, Education and Health of the Partially Sighted Child, by Winifred Hathaway, was published in 1935. The first low vision clinics opened at the New York Lighthouse and Industrial Home for the Blind in 1943. Gerald Fonda's book, Management of the Patient with Subnormal Vision was published in 1953. UK optometrist Norman Bier published his Correction of sub-normal vision in 1960. (Cat No 474) In Australia Josef Lederer invented the aspheric Lederer lens in 1954 and gave lectures on low vision. The Kooyong Low Vision Clinic was opened in Melbourne Australia in 1972. The senior author of this book, Edwin Mehr OD FAAO from the School of Optometry University of California Berkeley was the foundation chair of the low vision diplomate program of the American Academy of Optometry when it was established in 1973. This book was published at much the same time as those of Eleanor E. Faye published. in 1970 and 1975.
How Acquired:
Donated by Optometry Australia (Wright Library)
Location:
Archive room. East wall. Books of historical note