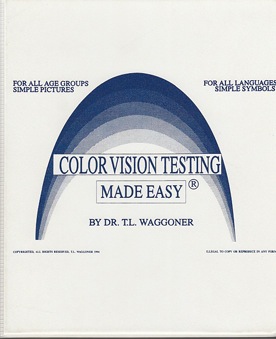 Color vision testing made easy
Sub-Category:
Colour Vision Test
Designer/inventor:
WAGGONER Terrace (Terry) L.
Year Of Publication/Manufacture:
1994
Time Period:
1940 to 1999
Place Of Publication/Manufacture:
USA
Publisher/Manufacturer:
T. L. Waggoner
Description Of Item:
Pseudoisochromatic colour vision test designed especially for pre-school children, white plastic covered boards, 195 x 232 mm, three ring folder holding a title page, a demonstration plate, nine pseudoisochromatic plates with symbol targets (square, circle, star), followed by three plates in which the target is a ship, car or balloon (with a dog symbol as a specified possible target that does not occur in a test plate, as a test of understanding the test). The second set of plates is preceded by a target demonstration card. A pocket inside the front cover contains a spare demonstration card, instructions, updated instructions dated 1998, a sheet giving an account of the test's origins on one side (with photograph of the designer) and a report of a validation test carried out by Susan Cotter OD from the Illinois College of Optometry, and a printout of two e-mails between Waggoner and the AOA,
Historical Significance:
Dr. Terrace Waggoner OD (1976 Marshall B. Ketchum University formerly Southern Californian College of Optometry) is an American optometrist with a special interest in colour vision . He has developed several products that are used to test for colour vision deficiencies, some of which include this test 'Color Vision Testing Made Easy', Ishihara Compatible Pseudoisochromatic Plate Color Vision Test (PIPIC), and the Waggoner Computerised Color Vision Test computerised test See www.testingcolorVision.com.
How Acquired:
Donated by Optometry Australia
Location:
Archive room. West wall. Unit 1 Drawer 2