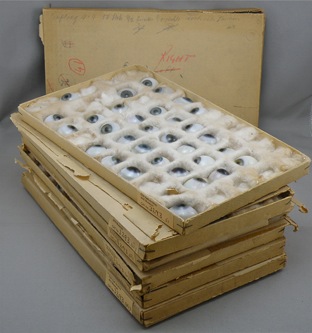 Artificial eye fitting set
Category:
Spectacles and lenses
Sub-Category:
Artificial eyes, facial prosthesis
Year Of Publication/Manufacture:
c1935
Time Period:
1900 to 1939
Place Of Publication/Manufacture:
Germany?
Description Of Item:
Six shallow cardboard boxes of glass artificial eyes. Each box divided by cardboard and cotton wool into 50 spaces, each box contains less than 50 items; 139 in total. One box is labelled in pencil in German 'Auftrag No 4 50 Stuk 1/2 linke 1/2 rechte sortierte farben' ie 'Order No 4, 50 pieces, 1/2 left 1/2 right, assorted colours'. Other boxes variously labelled as 'R' or 'L', 'Brown' or 'Blue' but many crossings-out and overwriting. Each box is 254 x 154 x 17mm.
Historical Significance:
In the early twentieth century some glass eyes were individually made from moulds, but many patients were fitted from trial sets such as this to find a best match. By the mid 1940's glass eyes were replaced with plastic prostheses. This set was found by Neville Turner amongst rubbish at the ACO.
How Acquired:
Donated by Neville Turner
Condition:
Each prosthesis: very good, boxes; poor
Location:
Archive room. West wall. Unit 1 Drawer 5