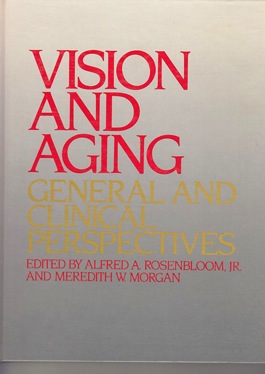 Vision and aging: general and clinical perspectives
Sub-Category:
Book of historical note
Editor:
ROSENBLOOM Alfred A, MORGAN Meredith W
Year Of Publication/Manufacture:
1986
Time Period:
1940 to 1999
Place Of Publication/Manufacture:
New York
Publisher/Manufacturer:
Professional Press Books/Fairchild
Description Of Item:
Hardback, 285 x 220 mm, 393 pages, black and white illustrations and diagrams throughout text
Historical Significance:
Al Rosenbloom BA (Penn State), MA (U Chicago), OD (Ill. College Optom) (1921-2015) was Dean of the Illinois College of Optometry from 1955 to 1972 and was known for his expertise in low vision and his advocacy in that field. Meredith Morgan BS (optom and physics), MA, PhD (all U Calif Berk) was Dean of the University of California Berkeley School of Optometry from 1960 to 1973. See Hindsight 2016; 47(3): 100-101 for more biographical information for Rosenbloom and Morgan. Morgan is an author in this book for two chapters. Noteworthy is that Australian optometrists Ian Bailey and David Cockburn are authors of chapters.
How Acquired:
Donated by Estate of David Cockburn via Ian Gutteridge
Date Acquired:
April 2017
Condition:
Very good except for blemish on front paste down
Location:
Archive room. East wall. Books of historical note. Folios