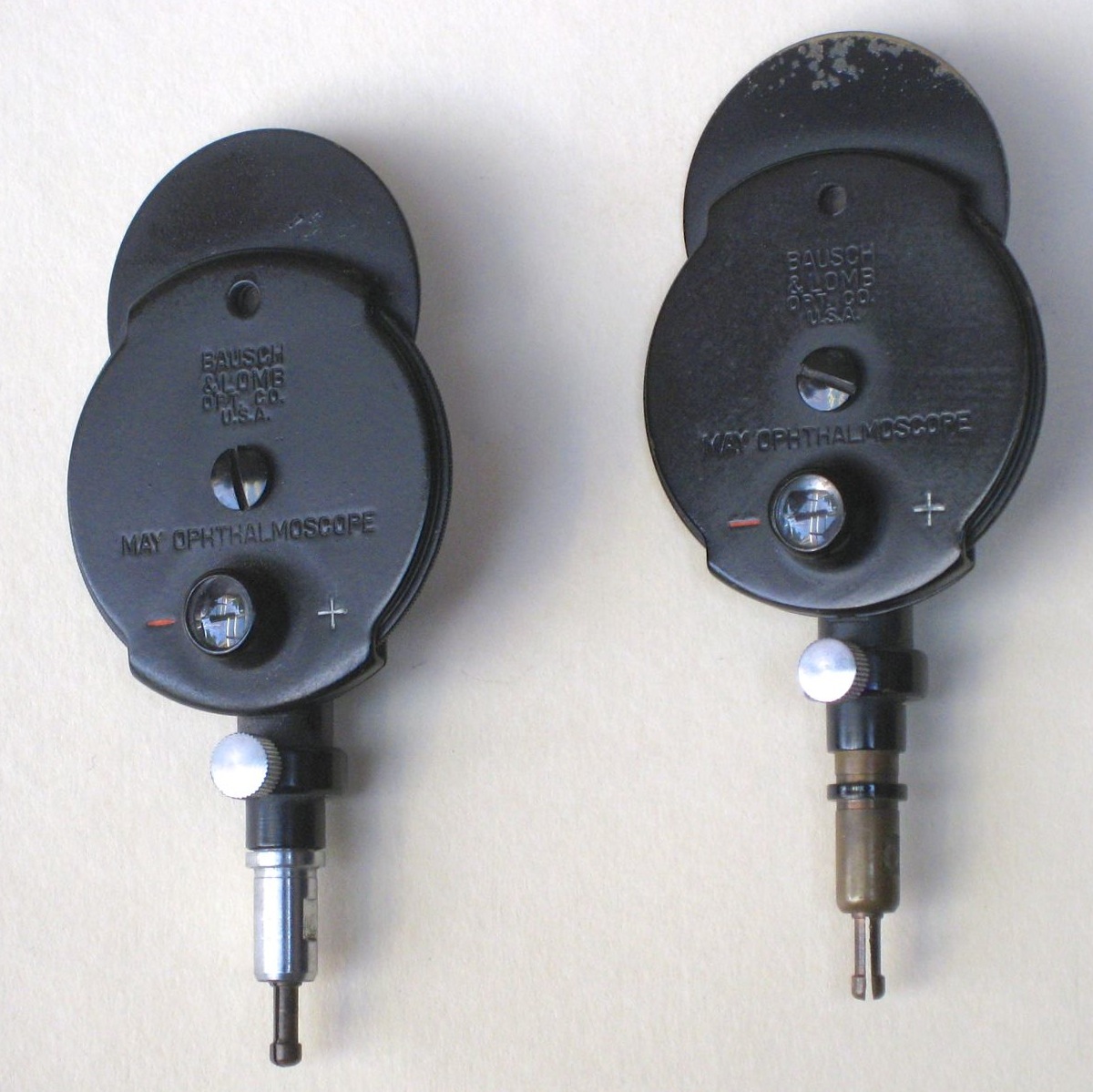 May ophthalmoscope heads made by Bausch and Lomb
Sub-Category:
Ophthalmoscope
Corporation:
Bausch and Lomb Optical Co.
Year Of Publication/Manufacture:
c 1950
Time Period:
1940 to 1999
Place Of Publication/Manufacture:
Rochester USA
Publisher/Manufacturer:
Bausch and Lomb Optical Company
Description Of Item:
Two May-type ophthalmoscope heads, black enamel metal with removable chrome stem holding the lamp. The stem connects to a battery handle (no included) of the kind in Cat No 2197. Rotating disc with milled edge holding correcting lenses the power of which can be viewed through a small lens window. Marked on front BAUSCH / AND LOMB / OPT CO / U.S.A. / MAY OPHTHALMOSCOPE and on the back U. S. PAT. 2,080,844. Also included two spare lamps packaged on a card, marked HI-LIGHT IMPROVED LONG-LIFE CENTERED FILAMENT BULBS WHITE 2.5 V CAT NO 71-71-44 B & L. Items are contained in an ophthalmic instrument case, black leatherette with purple 'silk' lining inside of the hinged lid which is labelled THEODORE / HAMBLIN LTD / LONDON W.1 that also includes a card (formerly affixed the the lid of the case) reading ALAN ISAACS / C/O DEAN'S OFFICE / INST. OF OPH / LOND
Historical Significance:
This instrument was used by Alan Isaacs who qualified as an optometrist in 1944 and later qualified in medicine and practised as an ophthalmologist. Bausch and Lomb that was founded in 1853 in Rochester New York as a small optical shop and grew to be a large company which in 2007 had 14,000 employees. It manufactured ophthalmic lenses and instruments but in recent years abandoned these products in favour of contact lenses and related pharmaceuticals. May designed this improved ophthalmoscope in 1915. The improvement was to the illuminating optics. See May C H The May Electric ophthalmoscope. Trans Am Ophthal Soc 1915; 14: 165-167. Charles Henry May (1861-1943) was a New York ophthalmologist who wrote 'May's Manual of Diseases of the Eye for students and practitioners' first published 1900 and which ran to 22 American Editions and many other editions in other countries and languages. See his obituary Snyder C Arch Ophthal 1961 142-1943. The May ophthalmoscope was made by several manufacturers. See Cat Nos 1185, 1186 and 1188, See Bausch and Lomb instrument catalogue of the 1950s at Cat No 2169.
How Acquired:
Donated by Alan Isaacs, honorary life member of the College
Location:
Archive Office. Cabinet One Drawer 12