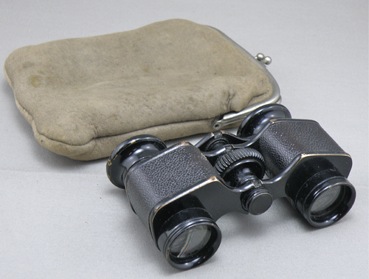 BABY 3 1/2 x opera glasses by Iris Paris
Category:
Spectacles and lenses
Sub-Category:
Telescopes, binoculars, opera glasses
Year Of Publication/Manufacture:
c1910
Time Period:
1900 to 1939
Place Of Publication/Manufacture:
Paris, France
Publisher/Manufacturer:
Iris
Description Of Item:
Opera glasses, metal with black enamel paint finish and fine leather bound barrels. Hinged to adapt for pupillary distance and with central focus wheel. Roof prism construction. Body impressed 'BABY 3 1/2x' and 'IRIS PARIS'. Purse-style soft leather pouch lined with green velvet. 95 x 60 x 35mm.
How Acquired:
Donated by Pamela Sutton
Condition:
Fair; paint worn, lenses out of collimation
Location:
Archive Office. Cabinet One Drawer 15