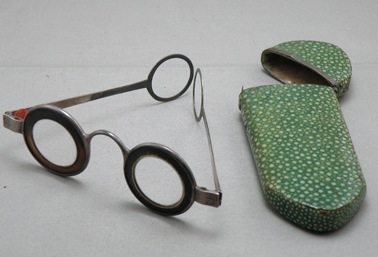 Visual glasses, also known as Martin's margins, with Shagreen spectacle case
Category:
Spectacles and lenses
Sub-Category:
Spectacles with case
Designer/inventor:
Benjamin Martin
Year Of Publication/Manufacture:
2nd half 18th century
Time Period:
18th C and earlier
Place Of Publication/Manufacture:
England
Description Of Item:
These spectacles, 115 x 35 mm, are constructed of silver with round eyeglass rims 36 mm in diameter within which is a wide annulus made of dark brown horn, The spectacles are glazed with +2.50 D sph right and left, Silver saddle bridge and temples ending with large rings to which a cord or ribbon could be attached to secure the glasses on the face, The flip-top spectacle case, 130 x 50 mm, is made of timber covered with shagreen (shark skin). The lid is ornamented with an engraved silver rim and at the top is a silver cartouche bearing the engraved initials E.L. The hinged lid has a metal button that operates a small catch to flip open the lid. The case is partially lined with red velvet.
Historical Significance:
Benjamin Martin (1704-1782) was a notable 18th century London optician. He described this kind of spectacles in his book An essay on visual glasses (vulgarly called spectacles) that was first published in 1756 and reprinted five times until 1760 (See Cat No 2302). The wide annulus was to reduce the amount of light entering the eye. They became known as Martin's Margins and were very popular in the second half of the 18th century despite learned opinion that there was no scientific evidence for the claims made for them.
How Acquired:
On loan from Michael Aitken, honorary archivist
Condition:
Both spectacles and case are in very good condition