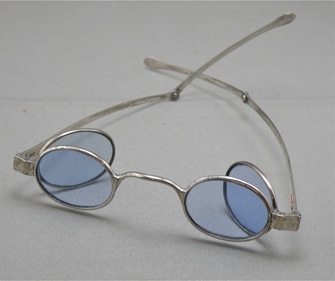 Four lens spectacles (Richardson patent)
Category:
Spectacles and lenses
Sub-Category:
Spectacles (with lenses)
Designer/inventor:
RICHARDSON John
Year Of Publication/Manufacture:
1820s
Place Of Publication/Manufacture:
London, UK
Publisher/Manufacturer:
Edward Thomason
Description Of Item:
Oval eye sterling silver spectacle frame, 115 x 25 mm, featuring the Richardson patent auxiliary lenses, which are side lenses hinged to swing from the side to behind the main lenses, saddle bridge and double hinged sides (Ayscough temples). The main lenses are R and L flat glass tinted pale blue (like Crookes A2). The auxiliary lenses are similarly tinted with powers R +1.00 DSph L plano. On the inside of each temple are hallmarks lion passant and leopard's head and the markers mark E.T.
Historical Significance:
London optician John Richardson patented the swinging auxiliary lens idea in 1797. They were popular in the early 19th century because apart from providing auxiliary lens power, the auxiliary lenses also provide eye protection when travelling by train. The hallmark E.T. is for Edward Thomason. John and Matthew Richardson (father and son?) are recorded as working in the optical trade 1716 to 1827. Matthew was apprenticed to Edward Scarlett (1677-1743) the London optician credited with introducing straight sides for spectacles designed to slide under a wig.
How Acquired:
On loan from Michael Aitken, honorary archivist
Location:
Archive computer iPhoto