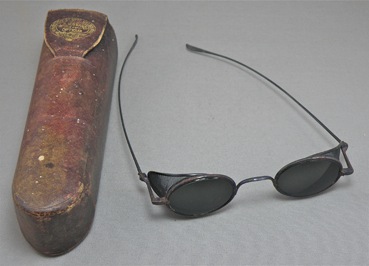 Tinted safety glasses with gauze side shields, cased, by W illiam Samuel Husbands
Category:
Spectacles and lenses
Sub-Category:
Protective eyewear
Year Of Publication/Manufacture:
c1890
Place Of Publication/Manufacture:
Melbourne, Australia
Publisher/Manufacturer:
W S Husbands
Description Of Item:
Oval-eyed safety glasses in blued steel frame. Gauze side shields, plano tinted lenses, straight temples, each temple tip impressed 'HUSBANDS'. Original maroon leather and cardboard case, flip top detached. Flap impressed in gilt: 'W.S.HUSBANDS/ OPTICIAN/ 454 BOURKE ST WEST, MELBOURNE'.
Historical Significance:
William Samuel Husbands (1865 - c1937) was the son of Henry Husbands. an optician in Bristol, England. Henry Husbands supplied instruments to the Surveyor General of New South Wales, and exhibited at the 1880-81 Melbourne International Exhibition. Henry's two sons, William Samuel and Charles Frederick, both opticians, were in business in Melbourne. W S Husbands purchased the business of Mr Grimoldi which had been established in 1862, suppliers of spectacles and optical and scientific instruments.
How Acquired:
Purchased by Kett Museum
Condition:
Fair, frame corroded, case flap detached
Location:
Archive Office. Spectacles cabinet Drawer 3