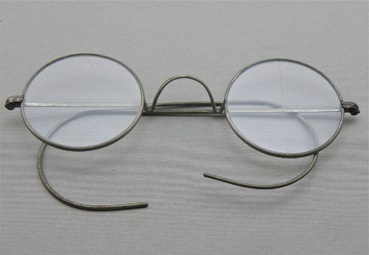 World War 2 era round eye curl side spectacles with curiously engraved lenses
Category:
Spectacles and lenses
Sub-Category:
Spectacles (with lenses)
Year Of Publication/Manufacture:
c1940
Time Period:
1940 to 1999
Description Of Item:
Round eye spectacles with saddle bridge and curl sides in nickel alloy frame. Flat plano glass lenses, each scribed vertically and horizontally. Right lens inscribed '68 x 8 x 3 x 21'. Frame PD is 68mm. The significance of the other figures is unknown. 120mm x 55mm.
Historical Significance:
This style of frame was supplied for use under gas masks during WW2.
How Acquired:
Purchased by Kett Museum
Condition:
Good but frame corroded.
Location:
Archive Office. Spectacles cabinet Drawer 1